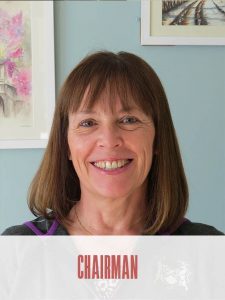 Chairman Introduction
May 2021
As the new chairman of the Suffolk Art Society, I would like to introduce myself.
By day I am a Chartered Physiotherapist, running my own practice, The Iveson Clinic, in Long Melford. In my spare time I enjoy painting and have exhibited for many years now across East Anglia. I mainly work in watercolour and occasionally mixed media.
Art Society Website
In the last two years, I have been responsible for the art society website, under the guidance of WP Creative. This has involved inputting artists' work and keeping information up to date. The website has been a wonderful addition for the society, originally created by Clare Powell and Matt Patrick.
Chairman role
As the new chairman, I look forward to meeting our members and planning forthcoming exhibitions. 2020 and 2021 have been turbulent years for us all, but hopefully it has given many of us time to be creative.
Our plan is to utilise social media to promote forthcoming exhibitions, as well as informing the press.
The society AGM held it's first virtual meeting in May 2021. This went really well and allowed us to meet safely, whilst following current government guidelines.
Exhibitions
Our exhibitions this year will resume firstly in July, in the Lady Chapel at Long Melford Church. The Lavenham exhibition had to be postponed and will now take place in Sept.  Dates for these can be found on the home page of this website.
We are also looking ahead and hope to have three exhibitions in 2022. We will be holding a 9 day exhibition, inside Bury Cathedral, from 22/10/22 to 30/10/22.
Summary
I would like to thank Clare Powell for her outstanding contribution as past chairman and secretary of the Art Society. With Clare's support I hope to get to grips with the tasks required to keep the society running smoothly.
Let's hope our exhibitions can resume as planned and life can start to feel more normal again.